The center will be based around LUMICKS' C-Trap™ optical tweezers–fluorescence microscope, which for the first time enables real-time observation and probing of biomolecular interactions. The approach will be pioneered in several pharmacology and biology assays with the aim of accelerating the discovery of potential new drugs.

Amsterdam, the Netherlands, 8am CET, 27 June 2018 – LUMICKS, a world leader in dynamic single-molecule analysis, has partnered with AstraZeneca (LON:AZN) and the University of Cambridge Biochemistry Department to form the 'Center of Excellence for Dynamic Single-Molecule Analysis for Accelerated Drug Discovery and Biology', the first of its kind worldwide. As part of the collaboration, a C-Trap™ optical tweezers–fluorescence microscope has been installed at the University of Cambridge and will be used by AstraZeneca, University of Cambridge research groups and LUMICKS, to provide new insights in biology and early-stage drug discovery research.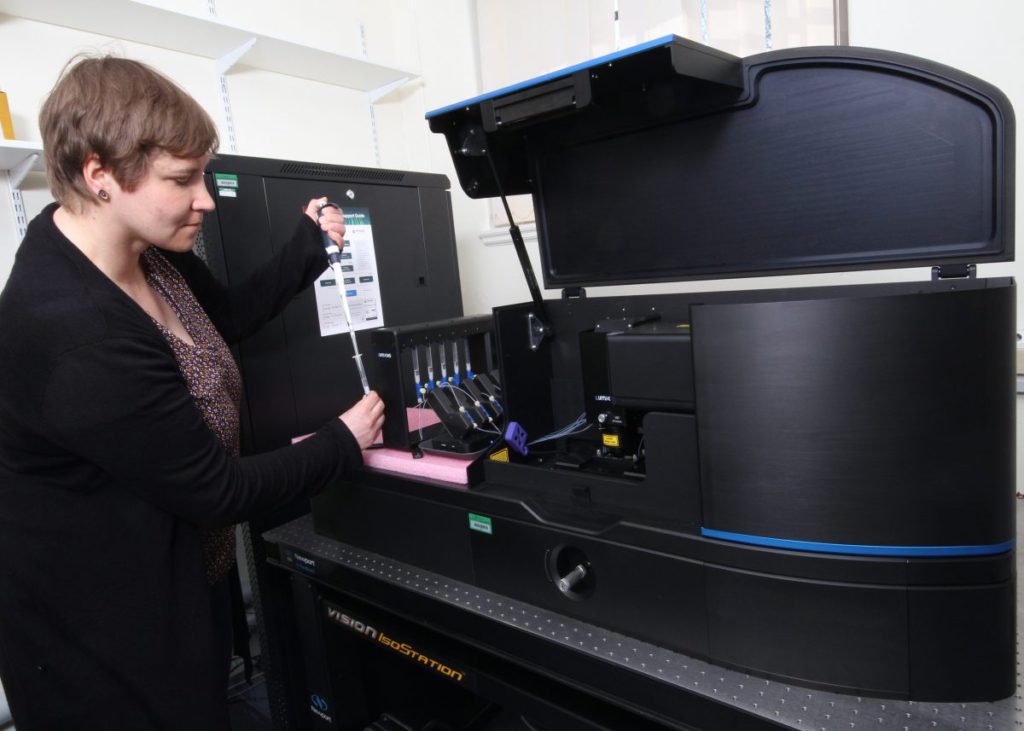 LUMICKS' technology allows for analysis of complex dynamic details related to the behavior and interaction of single molecules, allowing the center to investigate both the fundamental cause of diseases and potential for drug optimization. This collaboration aims to generate data that will validate the use of dynamic single-molecule technology for biomedical and pharmaceutical research and potential applications for accelerating drug discovery.
Olivier Heyning, CEO of LUMICKS commented: "Establishing the first ever Center of Excellence in Cambridge is an important step in introducing the power of dynamic single-molecule analysis to the biomedical and pharmaceutical research communities. Our tools enable scientists and pharmacologists to analyse the mechanistic details of processes underlying health and disease, with or without a small molecule drug lead being identified. This paves the way for the design of novel, more efficient strategies for highly-targeted drug discovery, and the selection of higher quality drug leads."
Dr. Geoffrey Holdgate, Principal Scientist, Discovery Sciences at AstraZeneca said: "C-Trap is a unique and powerful tool that could help us unravel precise molecular mechanisms of diseases and the mode of action of lead compounds. We are excited to be the first pharmaceutical company to use this technology and look forward to working with LUMICKS to validate the potential of single molecule analysis to enhance the drug discovery process."
Professor Luca Pellegrini, Group Leader at the University of Cambridge Biochemistry Department said: "This is a great opportunity for researchers across the University to explore complex molecular interactions and gain access to novel dynamic single molecule information regarding the workings of important biomolecular processes, especially in relation to the origin of diseases."
In addition to installing the C-Trap™ system, LUMICKS will provide on-site support to center participants, as well as an application scientist who will work with the participants to create standardized and robust single-molecule analysis workflows.
About C-Trap™
The C-Trap™ is the world's first instrument that allows simultaneous manipulation and visualization of molecular interactions in real-time. It combines high-resolution optical tweezers, confocal microscopy or STED nanoscopy with an advanced microfluidics system in a truly integrated and correlated solution. Using LUMICKS' groundbreaking C-Trap correlated optical tweezers–fluorescence microscope, scientists are now—for the first time—able to simultaneously and in real-time visualize individual molecules and measure mechanical properties of biomolecular complexes to reveal even greater detail. This revolutionary single-molecule visualization technology enables the understanding of biological processes to the smallest detail, which is critical for life science research and drug development.
About LUMICKS
LUMICKS is the global leader in dynamic single-molecule analysis (DSM) equipment: an emerging niche in biology research and drug discovery addressing pivotal trends towards smaller scale and functional analysis at an advanced level. Its DSM instruments enable researchers to understand and visualize complex biological processes occurring at the molecular level, providing unparalleled insight into the fundamental cause of disease and potential for drug optimization.
LUMICKS is a privately-owned company based in the Netherlands and was founded in 2014 as an academic spin-off from the research group of Prof. Gijs Wuite, Prof. Erwin Peterman, and Prof. Iddo Heller at the VU University Amsterdam. Following rapid adoption by key scientific institutions, LUMICKS aims to establish its breakthrough technology as a standard analytical method in biology and is focused on increasing this adoption, as well as growing its pharma customer base. The Company is well funded through Series-A financing from Gilde Healthcare partners.
For more information contact:
LUMICKS
Olivier Heyning, CEO
+31 (0) 20 220 0817
Citigate Dewe Rogerson
David Dible, Isabelle Andrews
+44 20 7282 1057